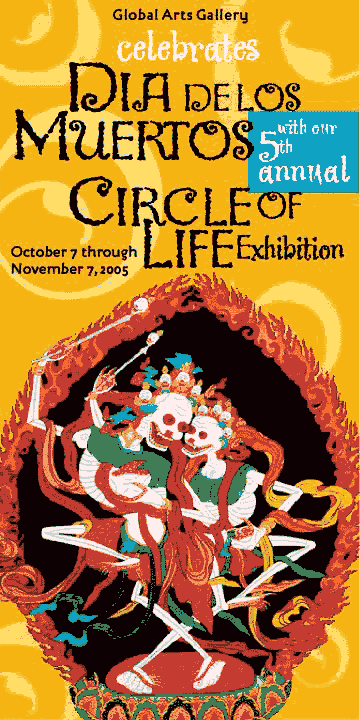 Global Arts 5th Annual
Dia de los Muertos/Circle of Life Exhibition
October 7th through November 7th
The highlight of the celebration (translate: party!), a feast, altar building, and reception featuring Tucson artists Margo Burwell, Cristina Cardenas, and Rand Carlson will be held on Sunday October 30 th. I so hope you'll join us.
When you come on the 30th, bring disposable offerings, images, poems, prayers, sweets, candles, and flowers to place on the gallery's community altar in memory of loved ones, both two- and four-legged, who have passed on.
On a gorgeous, blue Patagonia morning last month a longtime customer of Global Arts Gallery asked, once again, about a Global Arts newsletter. Well, now, she and a good number of other dear and loyal fans of the gallery have a resounding, fresh-from-cyberspace answer. All we need is a name.
So. Enter the Global Arts Name-Our-Newsletter Contest and win a $50.00 gift certificate to Wal-Mart (just kidding), to Global Arts. Enter as many times as you'd like. Employees and relatives of Global Arts are welcome to have at it, too. After all, we're all related on this little globe—six degrees of separation, right?
Email your suggestions to: Contest@GlobalArtsGallery.com
All entries must be received by November 15, 2005.
More on the horizon
Now that we have this first newsletter under our virtual belts, guess what's next?
You guessed it: We hope to launch globalartsgallery.com in time for--you guessed it again--the holidays. I have to tell you, I've found some amazing gifts on my travels this year.